Jurgen Klopp and Carlo Ancelotti reveal content of touchline discussion in Real Madrid-Liverpool
Real Madrid might have battered Liverpool 6-2 on aggregate in their Champions League Round of 16 tie, but the two sides ended on friendly terms at the Santiago Bernabeu.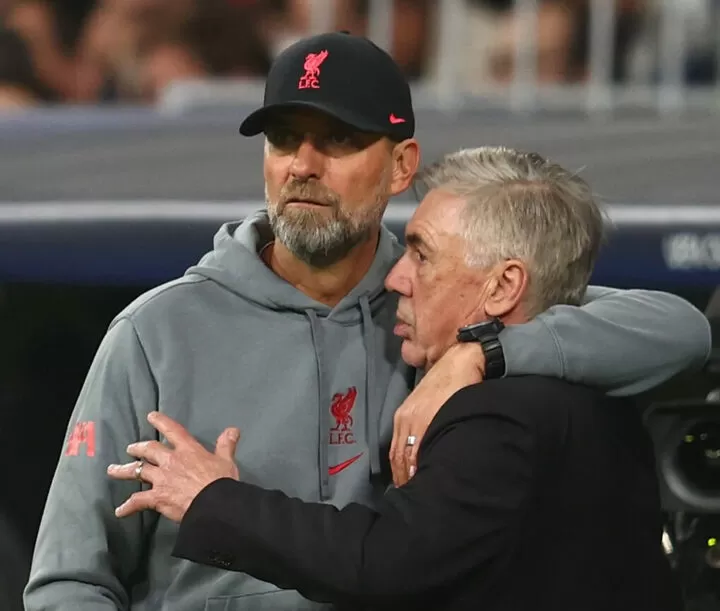 After Liverpool paid homage Amancio Amaro in the first leg, the Santiago Bernabeu played You'll Never Walk Alone, the Liverpool anthem over the PA system at the final whistle.
Even the managers were in synchronisation, as they both agreed that a late penalty decision for handball should not (and was not) given. Carlo Ancelotti and Jurgen Klopp could be seen conversing as the referee came to his decision.
"We agree that it was not a handball," Carlo Ancelotti told Marca.
""We talked about the penalty yesterday that was crazy, really, the penalty against Leipzig… be careful with this because this is not football, giving a penalty like that in a Champions League… I don't think anyone noticed it, not even Guardiola realised that they called that penalty."
His counterpart, Klopp, was in agreement.
"I'm not in the mood to talk about this. But it's clear that it wasn't a penalty. The one in the City match was something else. I think the appropriate decisions should be taken. Ancelotti told me that this isn't a penalty."
They weren't the only ones to express their surprise, and perhaps even disgust is a fair word, at the Leipzig decision. Real Madrid goalkeeper Thibaut Courtois recalled a similar incident with the same referee that was not called the same.
It seems there is widespread disillusion with the current handball rules in football. On the whole, the increase in fouls leading to penalties is distorting the game significantly from what it was before – the only saving grace in the Leipzig case was that it was not decisive for the result.
Other Articles